PHB Group is operating in France since 1978.
Philippe Berthaud, its founder, started his industrial journey in Garment manufacturing in west of France. This first manufacturing unit was specializing in trousers and was called "La Méniloise de Confection"
Due to the sales development, Philippe Berthaud had to enhance his production capacities by opening in 1983 Créatim, together with Catimini Group.
Créatim was producing garments for children.
One year after, Vetimod started, specializing in up-market outerwear manufacturing.
In 1985, Temper, a factory specialising in women fashion was created.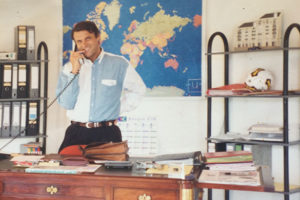 The international journey of PHB Group started in 1986 with the opening of Robitex in Morocco, still active and which is manufacturing jeans for different up-market brands.
The production reached 10 000 jeans a day in the 80's.
In order to provide solutions to customers in term of quality, estimated dates of delivery and prices, PHB Group started looking for production facilities in Eastern Europe and in Asia, in the countries where there is a textile tradition.
Philippe Berthaud and his son, Pierre-Alexandre Berthaud decided together the development in Asia.
These days, PHB Group France is managed by Pierre Alexandre Berthaud, group's vice-president, in charge of the international development of the group, its activities and new sourcing strategies.